40-Year Workmanship Warranty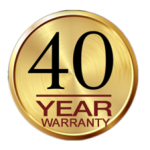 We have all been caught at least once in our lives with choosing a product or a service simply based on price. Only to find out later that this choice actually cost us more than double the best price we were originally presented with. When GF Sprague began back in 1969 we knew from the start there was only one way we wanted to do business; the "right way".
Getting a new roof for your home, or any home improvement project, has a substantial price tag to it. And we at GF Sprague know, especially in these times, money does not grow on trees. So the contractor YOU choose to complete YOUR work on YOUR home, has to be right the first time.
We understand that we may not be the lowest price you get for your project; However we do know we are the BEST PRICE for your project. And part of the "Best Price" are the long term assurances and warranties you are provided.
GF Sprague provides you with a 40-Year Workmanship Warranty on any of the work we provide to you. This warranty is more than TWICE the average warranty here in Massachusetts. When you measure value, and the strength of someone's word, see how long they are willing to stand behind it. Get the best warranty in Massachusetts, choose GF Sprague.
Looking for a price? Get a no cost, no obligation free estimate.